Assetcommand
CAN YOU HANDLE THIS MUCH POWER?
A full-featured, compact, hard-wired GPS tracking solution.
Our AssetCommand models are rugged, compact, hardwired GPS tracking devices, with a variety of inputs and output. The electronics, backup battery and antennas are all located within a durable housing for fast deployment. It is available for 4G LTE-CatM1 networks globally. It offers the ability to track and monitor any asset in a variety of conditions.
‍
The AssetCommand offers flexible logging parameters for finely tuned data collection and asset control. It's been designed to operate under the harshest conditions, without compromising performance or features. We're so confident you'll love it, we offer a 30-day, money-back guarantee.

Interested? Read on, or download the AssetCommand brochure.
For years our customers told us exactly what they were looking for in a tracking system.
For years our customers told us exactly what they were looking for in an asset tracking device. Rugged. Water-proof. Durable. Dependable. Easy to use. We listened. And we're pretty sure we nailed it. The AssetCommand, in Base and Max models, are cellular hard-wired tracking devices designed for years of tough service. And you only pay when the device is in service.
• No long term contract
• Pay-as-you-go subscription
• Deactivate and reactivate with no penalty
Internal Backup Battery and Antenna
The internal LiPo backup battery allows the AssetCommand to operate when external power is lost. All antenna are internal as well, creating a low-profile which makes it easy to mount anywhere.
IP68 Rated for Rugged Performance
The AssetCommandMax's housing is made of sturdy nylon glass composite to protect against the elements and is UV stabilised to survive many years of exposure.
Starter Disable and Inputs
Take control of your assets with the power to remotely disable and enable the starter. An additional digital and analog input provide flexibility to monitor extra parameters.
Runtime, Odometer and Service Scheduling
Track runtime, idle time, distance, location and asset battery voltage. Set maintenance schedules and receive reminders based on a combination of actual usage, distance driven or days – whichever comes first.
Keypad and Key fob Security
Enhance asset safety and security by using an optional integrated keypad or key fob. Only authorized users with the proper code or fob can start the asset, logging exactly who was operating at any given time.
Tilt and Rollover Detection
The 3-axis accelerometer allows the AssetCommand to detect driving events such as tilting, rollover, rapid acceleration, harsh braking or cornering at speed. It can also detect extreme G-force events, such as assets being dropped or involved in accidents.
Electric Lift Charging Detection
Monitor the three different states of Battery Good, Charging or Needs Charging on scissor lifts. Also view the historical logs of when the battery was low and when it was last charged.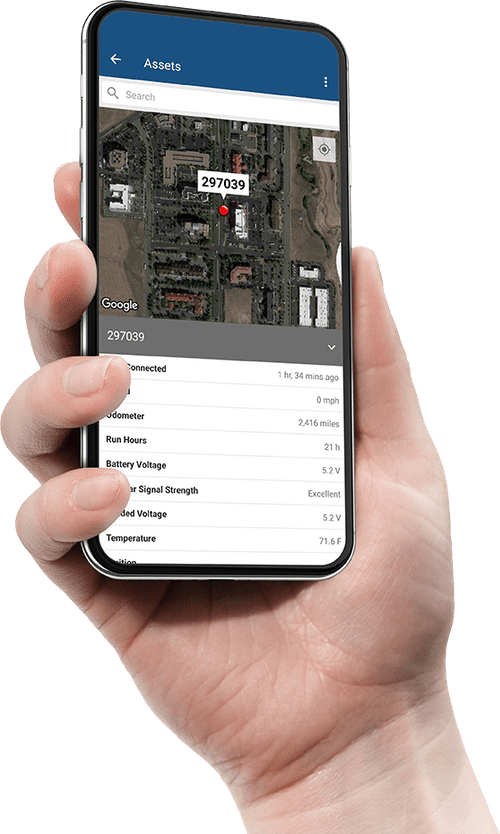 Keep Your Assets in View
Our intuitive web software delivers easy tracking and reporting. Quickly setup alerts for geofence, low-battery, maintenance, tilt/rollover, curfew and movement. Switch to Recovery Mode and keep tabs on your assets from your iOS or Android device.